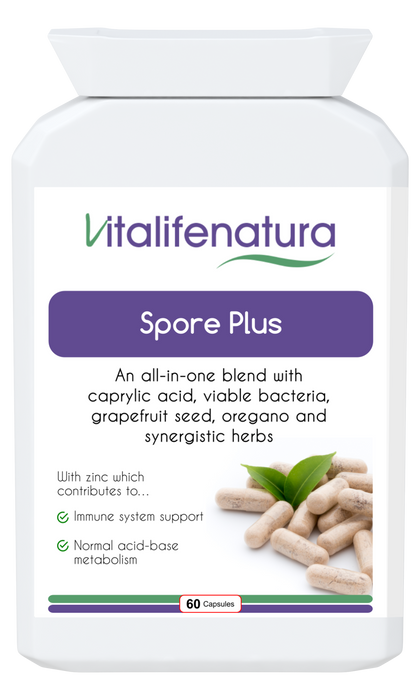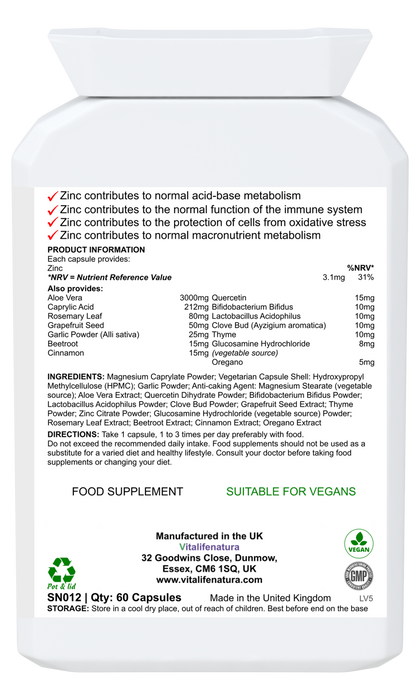 Spore Plus Anti-candida 60 Capsules
Anti-Candida, healthy gut and detox formula
Spore Plus is an all-in-one yeast balance, digestive health, cleanse and detox supplement. It contains caprylic acid, along with a broad spectrum of active herbals, probiotics and other natural cleansing and protective agents, which have anti-bacterial, anti-fungal, anti-microbial and anti-inflammatory actions.
The unique combination of ingredients in this food supplement helps to support the correct balance of gut flora (bacteria and yeasts), along with the integrity of the gastrointestinal tract and the growth of friendly bacteria. Ideal for use in conjunction with a low-yeast and low-sugar diet.
1 capsule to be taken 1 - 3 times per day, preferably with food.
Magnesium Caprylate Powder; Vegetarian Capsule Shell: Hydroxypropyl Methylcellulose (HPMC); Garlic Pdr; Anti-caking Agent: Magnesium Stearate (vegetable source); Aloe Vera Ext (200:1); Quercetin Dihydrate Pdr; Bifidobacterium Bifidus Pdr; Lactobacillus Acidophilus Pdr; Clove Bud Pdr; Grapefruit Seed Ext (5:1); Thyme Pdr; Zinc Citrate; Glucosamine Hydrochloride (vegetable source); Rosemary Leaf Ext (10:1); Beetroot Ext (5:1); Cinnamon Ext (5:1); Oregano Ext (4:1).
Suitable for vegetarians and vegans.