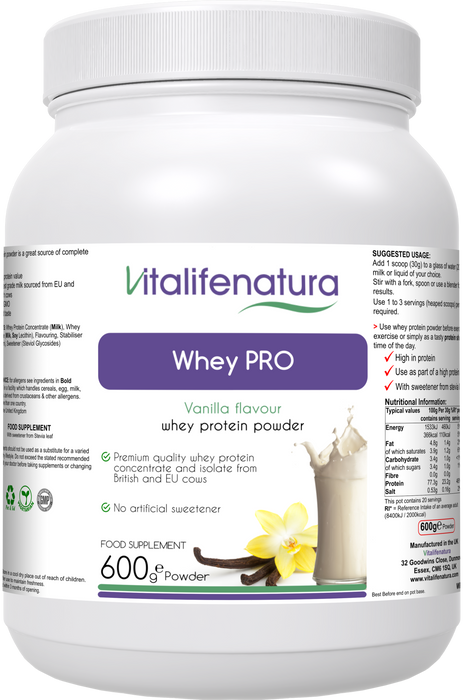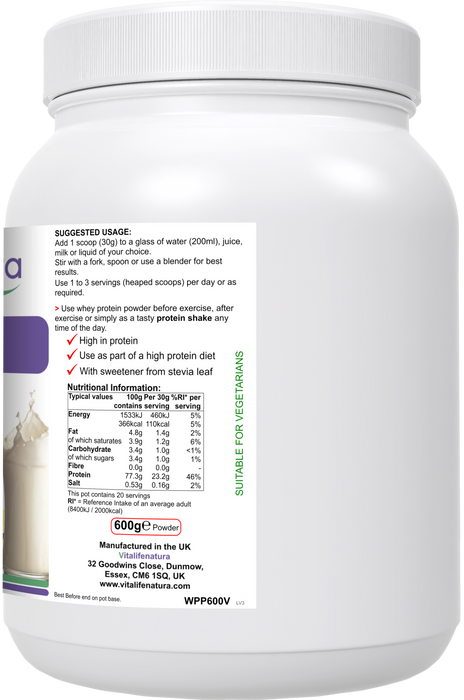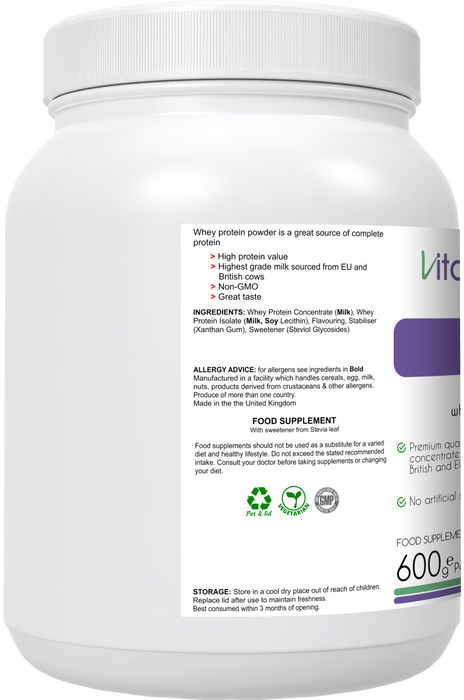 Whey Pro Vanilla Flavour 600g Powder
A premium quality Vanilla flavoured whey protein powder, derived from a blend of concentrate and isolate - NO artificial colours or sweeteners. With Natural Identical vanilla flavour (this is not artificial flavour but not 100% natural). Contains only the highest grade hormone-free milk, sourced from EU and British cows - no GMOs. --
Manufactured in the UK under GMP and ISO 22000 standards in an Informed Sports Factory. As well as providing an excellent nutritional (and amino acid) profile, we have ensured that using Whey Pro Vanilla Flavour is a tasty, hassle-free experience. It can be used before or after exercise, or at any time of day as a protein-rich, muscle building and appetite curbing snack.
Also available in Chocolate Flavour.
Other product features and benefits
Only premium quality whey is used (no other cheap protein sources have been added) Sourced from both whey concentrate and isolate for maximum effect Excellent amino acid profile
No artificial colours or sweeteners
No added sugar EU and British sourced milk Hormone-free Non-irradiated Non-GMO TSE / BSE free
Suitable for vegetarians.
1 to 3 servings (heaped scoops) to be taken per day, or as required.
Blending with liquids
1 scoop (30g) to be added to a large glass of water, juice, milk or other liquid. This should then be stirred with a fork or blender to mix.
Possible uses of Whey Pro Vanilla Flavour:
This whey protein powder can be used before exercise, after exercise or simply as a tasty protein shake any time of the day. Allergy advice: Contains milk and soya.

NOTE: Whey Pro Vanilla Flavour contains 20 servings. Reference intake of an average adult (8400kJ / 2000kcal) (%RI* = Reference Intake).
Whey protein concentrate (milk); Whey protein isolate (milk, soya lecithin); Flavouring; Stabiliser (Xanthan Gum); Sweetener: Stevia Leaf Extract (Steviol glycosides)
ALLERGY ADVICE: for allergens, see ingredients in bold.
Nutritional information per 100g
Energy - 1533kJ/366 kcal
Fat - 4.8g of which saturates 3.9g
Carbohydrate - 3.4g of which sugars 3.4g Fibre - 0.0g
Protein - 77.3g Salt - 0.53g
Contains no: GMOs, hormones, artificial colours, flavours, sweeteners or added sugar.
Highest grade milk sourced from EU and British cows only.
Suitable for vegetarians.