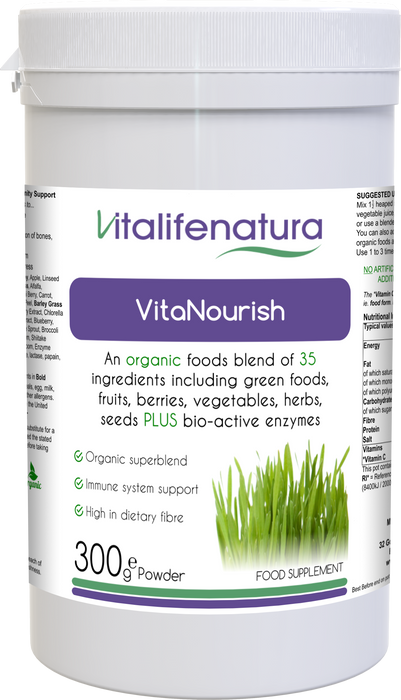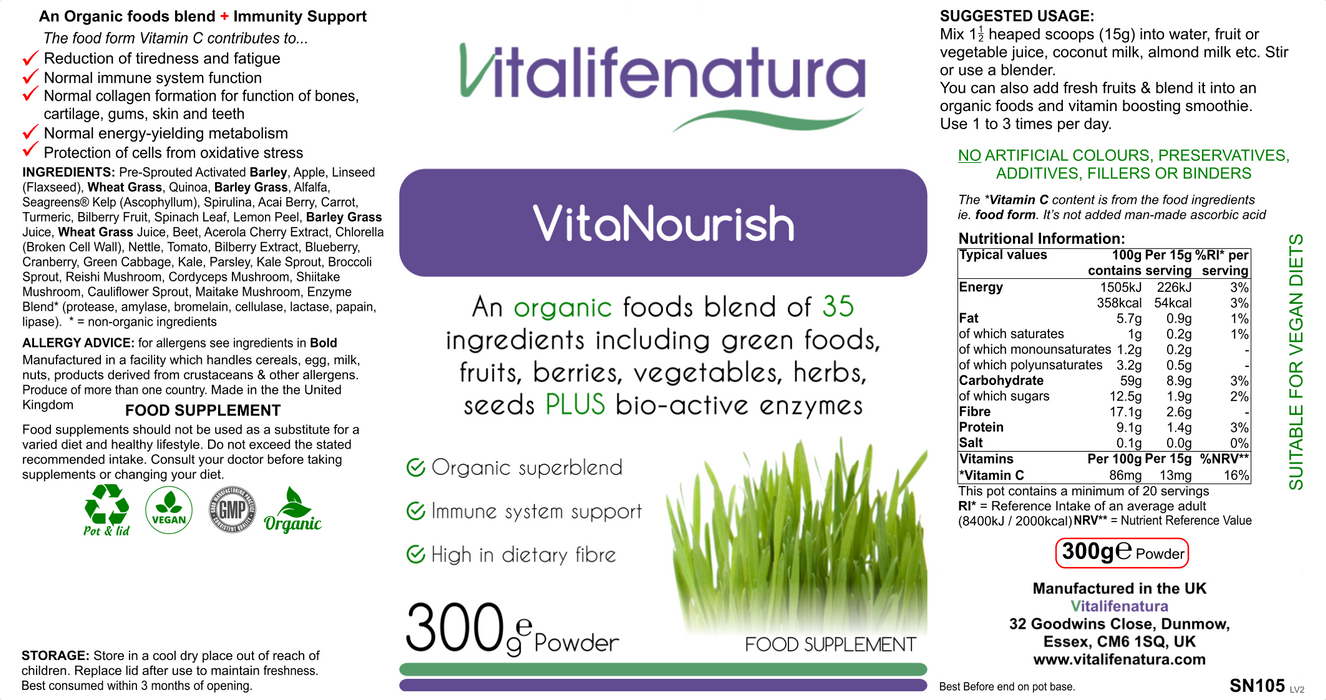 VitaNourish is no ordinary super-green shake - this Soil Association organic, high-fibre combination contains 35 green foods, vegetables, fruits, berries, herbs, sprouts, mushrooms and seeds plus bio-active enzymes - organic vegan nutrition made easy, with naturally high food form vitamin C content, as well as plant protein.
A great all-round supplement to support immunity, digestion (bulk), energy levels, cleansing, detoxification and alkalising of the body. This unique organic registered food combination contains a whopping 35 foods, which includes amazing activated pre-sprouted barley (a special patented form of barley, made in Sweden), vegetables, fruits, berries, herbs, mushrooms, sprouts and seeds PLUS bio-active enzymes in a single serving.
Organic vegan nutrition made easy, with naturally high food form vitamin C content, which as we all know is required not only for your immune system but also for collagen formation, protection against oxidative stress and for high energy levels. It is also high in dietary fibre which supports healthy, regular bowel movements.
Made up of 35 organic food-based ingredients including... 11 green foods 8 fruits and berries 7 vegetables 2 herbs and seeds 7 sprouts and mushrooms
Mix 11/2 heaped scoops (15g) into water, fruit or vegetable juice, soya milk etc. Add fresh fruits and blend into an organic foods and vitamin boosting smoothie. Use 1 to 3 times per day, or as required.
Allergy advice: This product contains gluten, see label ingredients in bold.
Pre-Sprouted Activated Barley, Lucuma Fruit, Linseed (Flaxseed), Wheat Grass, Quinoa, Barley Grass, Acai Berry, Baobab Fruit Pulp, Seagreens® Kelp (Ascophyllum), Spirulina, Turmeric, Alfalfa, Carrot, Bilberry Fruit, Spinach Leaf, Barley Grass Juice, Wheat Grass Juice, Beet, Acerola Cherry Extract, Chlorella (Broken Cell Wall), Nettle, Tomato, Bilberry Extract, Blueberry, Cranberry, Green Cabbage, Kale, Parsley, Kale Sprout, Broccoli Sprout, Reishi Mushroom, Cordyceps Mushroom, Shiitake Mushroom, Cauliflower Sprout, Maitake Mushroom, Enzyme Blend* (protease*, amylase*, bromelain*, cellulase*, lactase*, papain*, lipase*) * = non organic ingredient.
Contains no added: artificial colours, flavourings, preservatives, dairy products, lactose, fillers or binders.
Suitable for vegetarians and vegans.