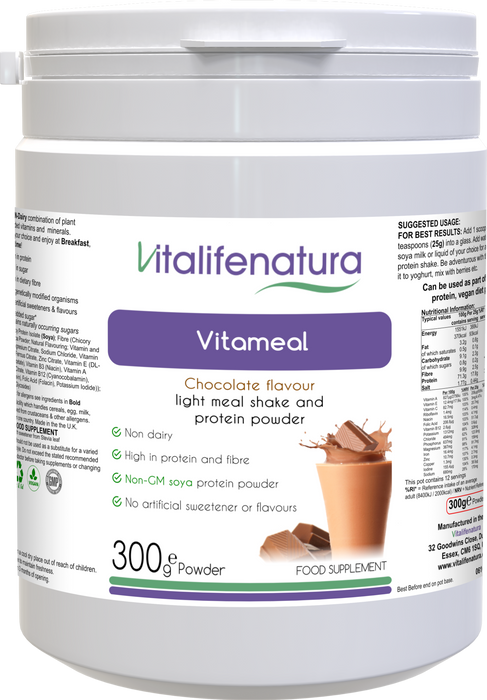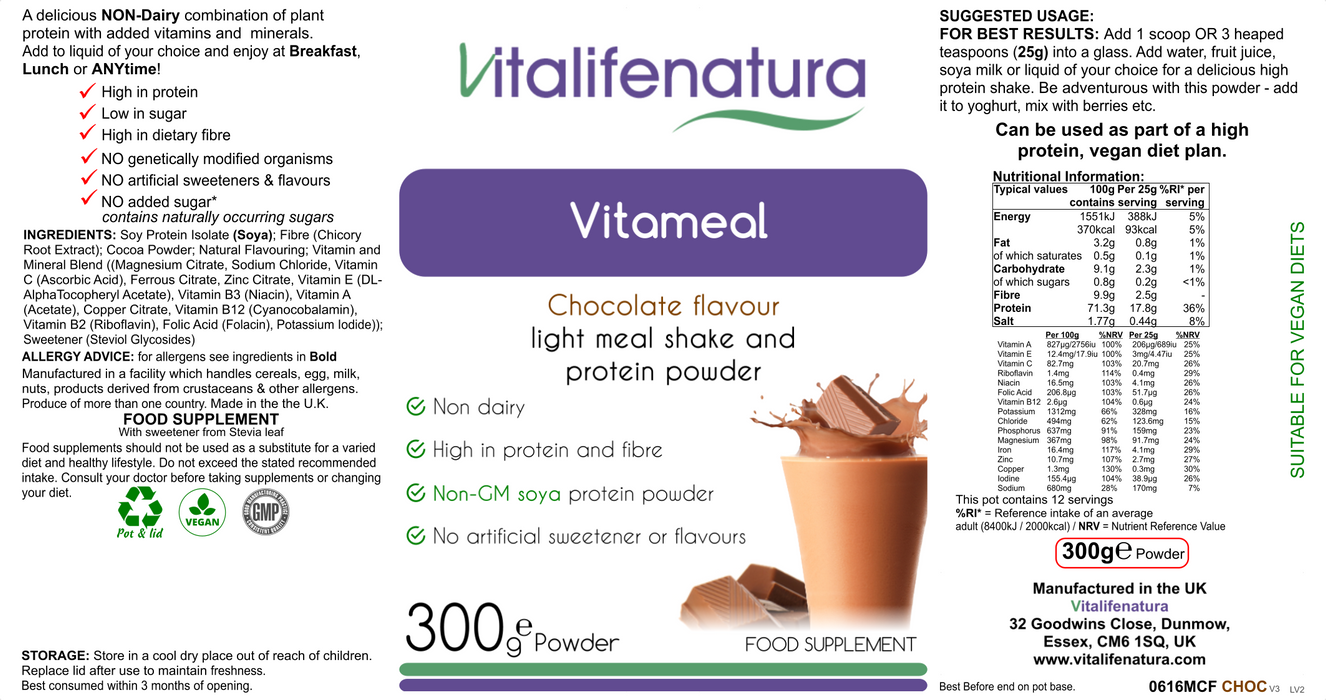 Vitameal Chocolate Flavour 300g Powder
A dairy-free gluten-free and 
vegan 
meal shake and 
non-GM soya isolate
 protein powder that has been fortified with vitamins and minerals.
--

Manufactured in the UK under GMP and ISO 22000 standards in an Informed Sports Factory
.
High in protein, low in saturated fat and with no artificial sweeteners, this chocolate flavoured daily shake is also high in dietary fibre (from chicory root extract - 9.9g per 100g).
Tasty and filling, Vitameal Chocolate Flavour makes for the ideal in-between meals shake. It can even be used as a tasty, guilt-free dessert - just 93 calories per serving!
Also available in vanilla flavour. 
Suitable for vegetarians and vegans.
1 to 3 servings to be taken per day or as required.

For best results, stir 1 scoop OR 3 heaped teaspoons (25g serving) into half a large glass of water, juice, soya milk etc. Add more liquid and stir for a delicious, thick and nutritious drink.
Allergy advice: Contains soya.

Possible uses of Vitameal Chocolate Flavour

This meal shake / protein powder can be used as follows:
as a breakfast shake
as a healthy anytime snack
as a delicious smoothie
between meals as a nutritious drink that helps to increase satiety and promote stable blood sugar levels
in place of a meal to reduce daily calorie intake, yet maintain nutrient levels
as part of a healthy slimming program
as a protein shake, to boost protein levels in the diet
to provide additional healthy calories for those with a small appetite or restricted food choice (e.g. due to an allergy or vegetarian / vegan lifestyle)
to increase fibre in the diet
as a healthy "fast food" for the whole family.
Blending with liquids

How to mix with liquids for best results...
Fill half a glass with water, fruit juice, soya milk, rice milk or any other liquid of choice.
Add 1 scoop of the powder to the liquid and stir.
Leave for around 2 to 3 minutes to allow the unprocessed ingredients to absorb the liquid. The powder will dissolve fully and become a thick, smooth blend.
You can now add more liquid if desired or drink as is.
Add chopped fruits and berries and blend into a delicious, filling and highly nutritious smoothie, protein shake or meal shake. For a frothy effect, use a hand-held frother or blender.
Soy Protein Isolate (Soya); Fibre (Chicory Root Extract); Cocoa Powder; Flavouring; Vitamin and Mineral Blend ((Magnesium Citrate, Sodium Chloride, Vitamin C (Ascorbic Acid), Ferrous Citrate, Zinc Citrate, Vitamin E (DL-AlphaTocopheryl Acetate), Vitamin B3 (Niacin), Vitamin A (Acetate), Copper Citrate, Vitamin B12 (Cyanocobalamin), Vitamin B2 (Riboflavin), Folic Acid (Folacin), Potassium Iodide)); Sweetener (Steviol Glycosides).

ALLERGY ADVICE: for allergens, see ingredients in bold. Manufactured on equipment which processes cereals, egg, milk and products derived from crustaceans.
Vitamins and minerals per 100g
Vitamin A - 800µg/2664iu
Vitamin E - 12mg/17.9iu
Vitamin C - 80mg
Riboflavin - 1.6mg
Niacin - 19.8mg
Folic Acid - 232µg
Vitamin B12 - 2.6µg
Potassium - 1105mg
Chloride - 304mg
Phosphorus - 639mg
Magnesium - 367mg
Iron - 23mg
Zinc - 12.8mg
Copper - 1.3mg
Iodine - 158µg
Sodium - 711mg

Nutritional information per 100g
Energy - 1555kJ / 371kcal
Fat - 3.3g
of which saturates - 0.5g
Carbohydrate - 9.1g
of which sugars - 0.8g
Fibre - 9.9g
Protein - 71.5g
Salt - 1.8g

Contains no added: gluten, wheat, dairy, lactose, yeast, added sugar, artificial sweeteners, artificial preservatives, artificial additives, artificial colourings or GMOs. Suitable for vegetarians and vegans.