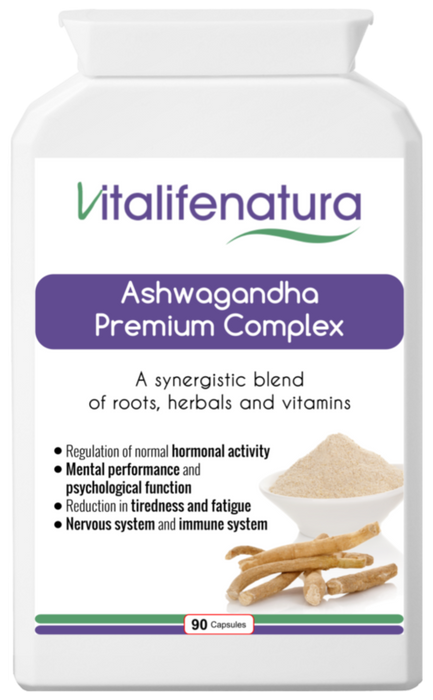 Ashwagandha Premium Complex 90 capsules
A synergistic combination of Ashwagandha root extract plus other herbs, roots and vitamins, formulated to support normal hormonal activity, the immune system, energy levels, mental performance and more.             
This food supplement combines important nutrients and nutraceuticals which contribute to normal hormonal activity, psychological function and nervous system function, thereby helping users to better manage their stress response on a day-to-day basis. This clever formula helps the body to adapt to what it needs, when it needs it - backed by science (see below).
Ashwagandha Premium Complex works best when combined with adequate rest and sound nutrition, and offers support for those who wish to put their body back in balance, boost immunity and reinvigorate their energy levels to better manage life's daily physical and mental stresses.

Ashwagandha root extract
Vitamin, herbal and root complex
With reishi mushroom
Supports normal hormonal activity
Supports mental performance
Supports psychological function
Supports energy levels
Supports the immune system
Supports the nervous system
Suitable for vegetarians and vegans


Take 1 capsule, 1 to 3 times per day or as required.

Bulking agent: Brown Rice Flour, Capsule: Hydroxypropyl Methylcellulose (HPMC) (Vegetarian), Ashwagandha Extract (2.5% Withanolides), Rhodiola Rosea 3% Extract, Astragalus Root Extract 10:1, Anti-caking Agent: Magnesium Stearate (Magnesium salts of fatty acids) (vegetable source), Schisandra Chinensis, Maca Root Extract 10:1, Nicotinamide (Niacin), Pantothenic Acid ( D-Calcium Panthonate) 90.1%, Liquorice Root Extract 10:1, Reishi Mushroom Extract 4:1, Black Pepper Extract (Piper Nigrum) 95% Piperine., Korean Panax Ginseng 40:1 80% Ginsenocides, Turmeric Powder (Organic), Vitamin B6 (Pyridoxal 5 Phosphate 68%), Vitamin B12 Cyanocobalamin 1%, Gotu Kola Extract 4:1

Contains no added: artificial colours, flavourings, preservatives, dairy products, gluten, lactose, soya, sugar or yeast.
Suitable for vegetarians and vegans.