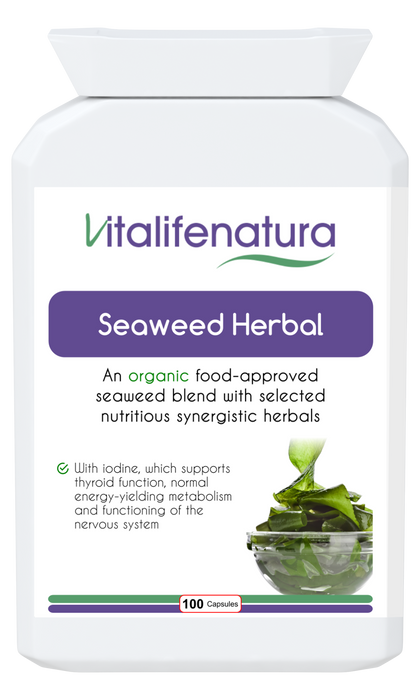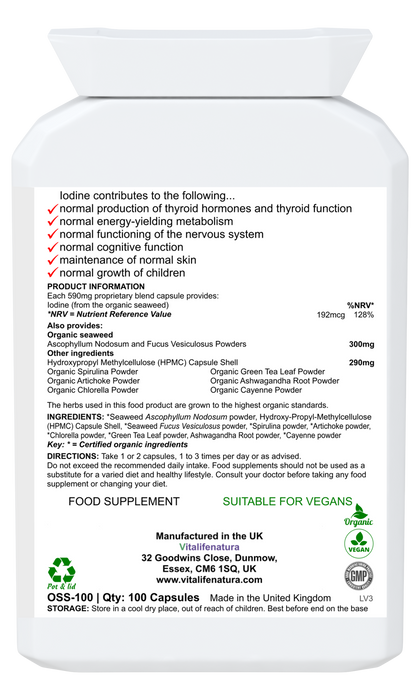 Seaweed Herbal 100 Capsules
Seaweed Herbal is a powerful all-in-one alkalising, cleansing, detoxification and daily nourishment formula, which combines the best of nutrient-dense foods from both the Sea and Earth's soil.
The 100% organic ingredients that have been blended in these capsules include: Seagreens® food-approved seaweed (Ascophyllum nodosum and Fucus vesiculosus), artichoke, chlorella, green tea leaf, spirulina, ashwagandha root and cayenne.
This food supplement is iodine-rich and high in a broad spectrum of protective nutrients, including antioxidants, phyto-chemicals, polyphenols, enzymes, amino acids, vitamins and minerals.
Iodine contributes to normal cognitive function, normal energy-yielding metabolism, normal functioning of the nervous system, the maintenance of normal skin, the normal production of thyroid hormones and normal thyroid function and the normal growth of children.
1 or 2 capsules to be taken 1 to 3 times per day, or as advised.
Seaweed Ascophyllum Nodosum powder, Hydroxy-Propyl-Methylcellulose (HPMC) Capsule Shell, *Seaweed Fucus Vesiculosus powder, *Spirulina powder, *Artichoke powder, *Chlorella powder, *Green Tea Leaf powder, *Ashwagandha root powder, *Cayenne powder. NO filler, additives or binders
*Certified organic ingredients: 100% of the agricultural ingredients are produced in accordance with the rules of organic production. EU/non-EU agriculture.
The herbs used in this food product are grown to the highest organic standards.
Suitable for vegetarians and vegans.