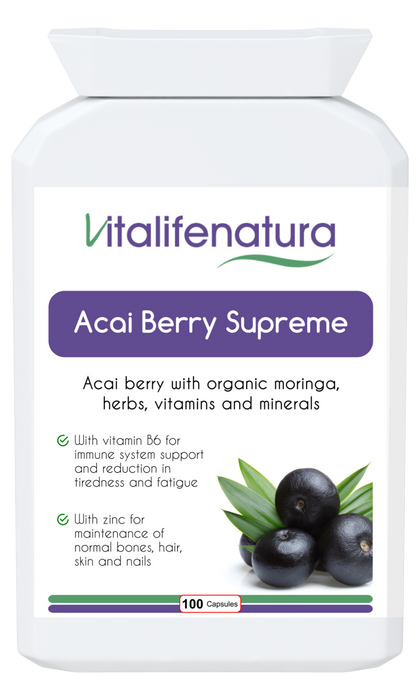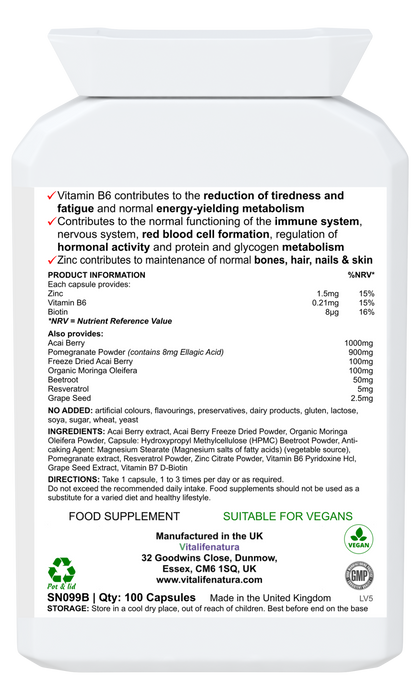 Acai Berry Supreme 100 capsules
Acai Berry Supreme are high-strength and high potency vegetable supplements packed with 1065 mg of concentrated acai berry powder plus 465 mg additional antioxidants. They are composed of three major ingredients namely grape seed extract, resveratrol, and pomegranate. The best thing about them is that they have no additives such as salt, excipients, flavours, or sugars.
Acai Berry Supreme is the best supplement for vegetarians, vegans, and hypersensitive individuals. The dosage for this revolutionary supplement is one capsule taken two to three times regardless of your meal plan or as advised by your physician.
The benefits of Acai Berry Supreme vary from boosting the immune system to physical and mental rewards. It provides quick and easy access to other important dietary minerals, vitamins and phytonutrients important in healthy weight loss, improved immunity, and ideal for support of energy levels in the body.
They are also preferred by diabetics and athletes as they stabilise blood sugar and healthy cholesterol levels. As a result of their high antioxidant composition, they have a nourishing effect on your brain and makes up an overall healthy supplement.
This amazing supplement comes in a variety of forms to suit every client ranging from Acai Berry capsules to powder formulas.
They all serve the same purpose only that Acai Berry capsules are more portable and can be packed in doses for a long time, and is especially convenient if you are traveling. Carry these capsules wherever you go to boost your immune system every day.
Each capsules provides: %NRV* Zinc - 1.5mg 15% Vitamin B6 - 0.21mg 15% Biotin - 8μg 16% *NRV = Nutrient Reference Value Also provides: Acai Berry - 1000mg Pomegranate Powder (contains 8mg Ellagic Acid) - 900mg Freeze Dried Acai Berry - 100mg Organic Moringa Oleifera - 100mg Beetroot - 50mg Resveratrol - 5mg Grape Seed - 2.5mg
Ingredients: Acai Berry extract, Acai Berry Freeze Dried Powder, Organic Moringa Oleifera Powder, Capsule: Hydroxypropyl Methylcellulose (HPMC) Beetroot Powder, Anti-caking Agent: Magnesium Stearate (Magnesium salts of fatty acids) (vegetable source), Pomegranate extract, Resveratrol Powder, Zinc Citrate Powder, Vitamin B6 Pyridoxine Hcl, Grape Seed Extract, Vitamin B7 D-Biotin.
Contains no added: artificial colours, flavourings, preservatives, dairy products, gluten, lactose, soya, sugar, wheat or yeast.
Suitable for vegetarians and vegans.
1 capsule to be taken 1 - 3 times per day, with or without food or as advised by a health practitioner.