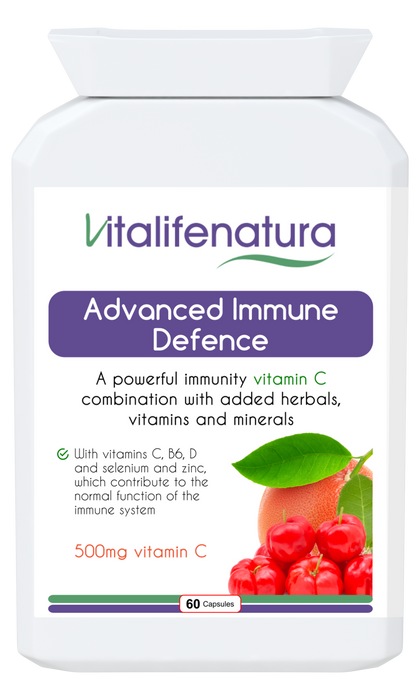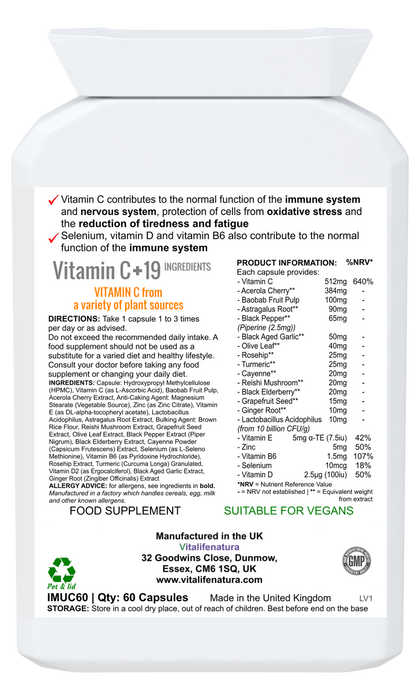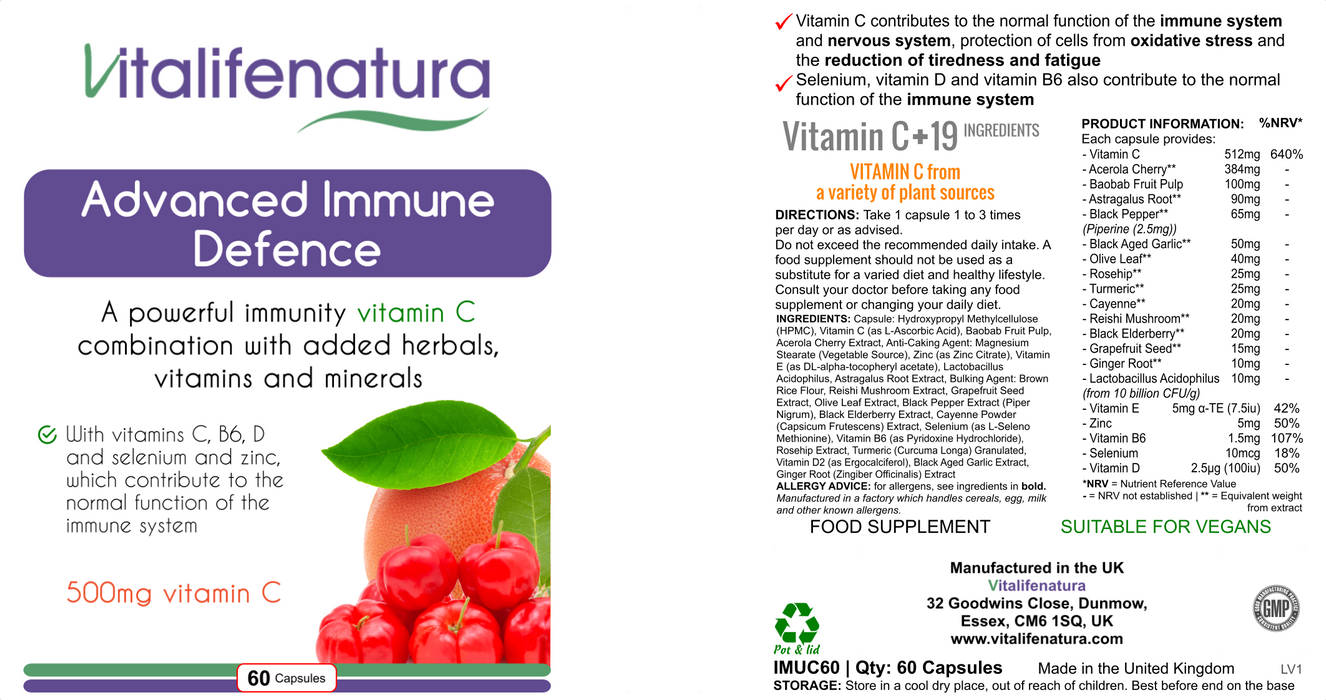 Advanced Immune Defence 60 capsules
A powerful immunity vitamin C (512mg) formula from multiple sources (including herbs, berries, plants and ascorbic acid) PLUS 19 additional ingredients from herbs, berries, fruits, leaves, roots, mushroom, bulbs, vitamins and minerals. Vitamin C to support a strong and healthy immune system!
Vitamin C from multiple sources (512mg) PLUS other vitamins (vitamin B6, D and E) PLUS minerals (selenium and zinc) PLUS bacteria culture (Lactobacillus Acidophilus from 10 billion CFU/g)
PLUS herbs and mushroom (acerola cherry, baobab fruit pulp, astragalus root, black pepper, black aged garlic, olive leaf, rosehip, turmeric, cayenne, reishi mushroom, black elderberry, grapefruit seed and ginger root)
Supports the immune system
Supports energy levels
Supports the nervous system
Supports healthy inflammatory response
Protection of cells from oxidative stress
Suitable for vegetarians and vegans
Vitamin C and immunity:
Vitamin C, or ascorbic acid, is mainly present in fruits and vegetables. The consumption of such foods is important since, unlike other animals, humans do not have the ability to produce this essential micronutrient themselves. This means we must top up our vitamin C daily, through the foods we eat and/or food supplements. Because it is water soluble, this essential vitamin can also easily be lost during cooking and long-term storage.
1 capsule to be taken 1 to 3 times per day, or as advised.
Capsule: Hydroxypropyl Methylcellulose (HPMC), Vitamin C (as L-Ascorbic Acid), Baobab Fruit Pulp, Acerola Cherry Extract, Anti-Caking Agent: Magnesium Stearate (Vegetable Source), Zinc (as Zinc Citrate), Vitamin E (as DL-alpha-tocopheryl acetate), Lactobacillus Acidophilus, Astragalus Root Extract, Bulking Agent: Brown Rice Flour, Reishi Mushroom Extract, Grapefruit Seed Extract, Olive Leaf Extract, Black Pepper Extract (Piper Nigrum), Black Elderberry Extract, Cayenne Powder (Capsicum Frutescens) Extract, Selenium (as L-Seleno Methionine), Vitamin B6 (as Pyridoxine Hydrochloride), Rosehip Extract, Turmeric (Curcuma Longa) Granulated, Vitamin D2 (as Ergocalciferol), Black Aged Garlic Extract, Ginger Root (Zingiber Officinalis) Extract.
Contains no added: artificial colours, flavourings, preservatives, gluten, dairy, lactose, sugar, wheat or yeast.
Suitable for vegetarians and vegans