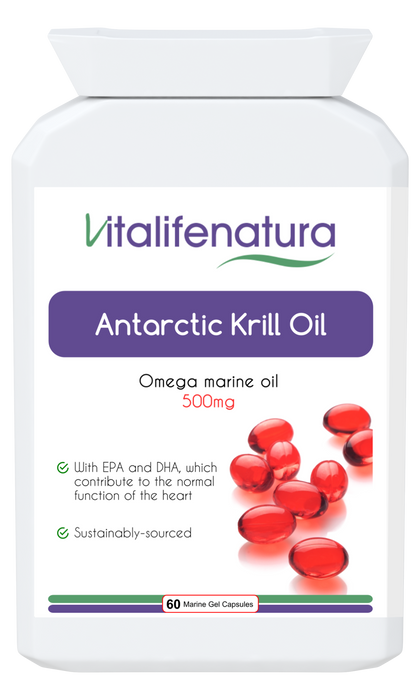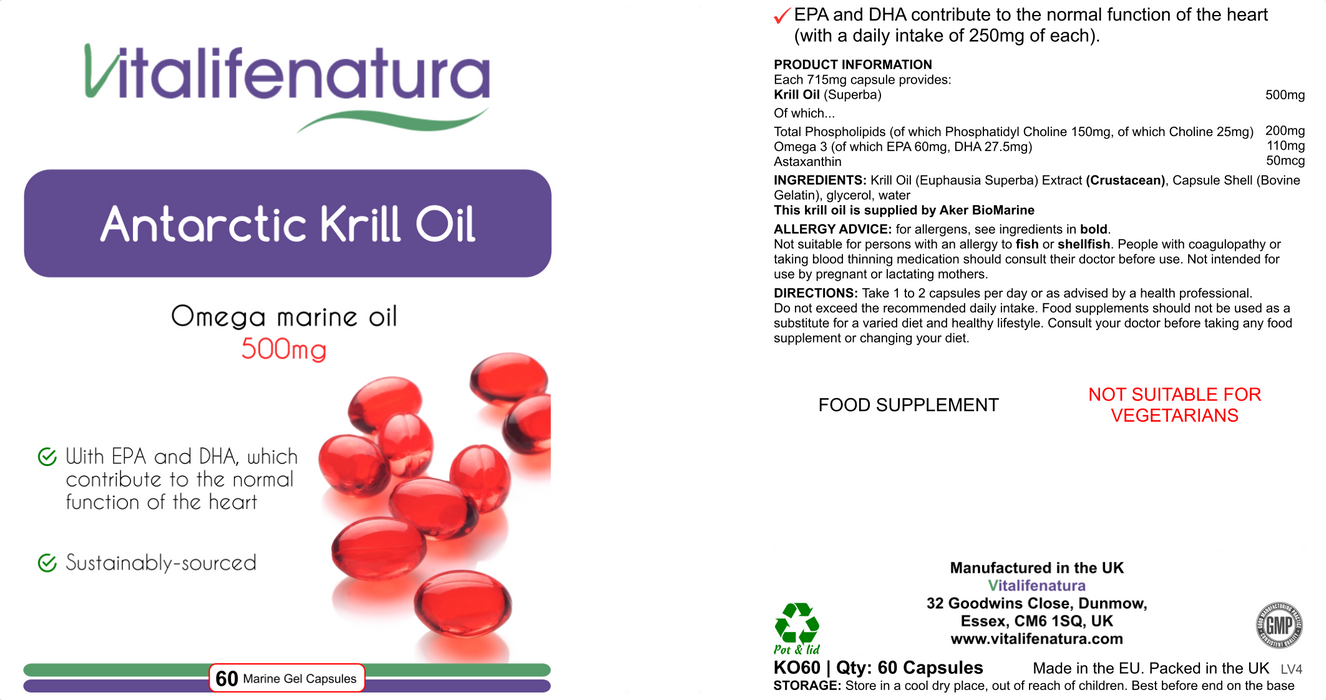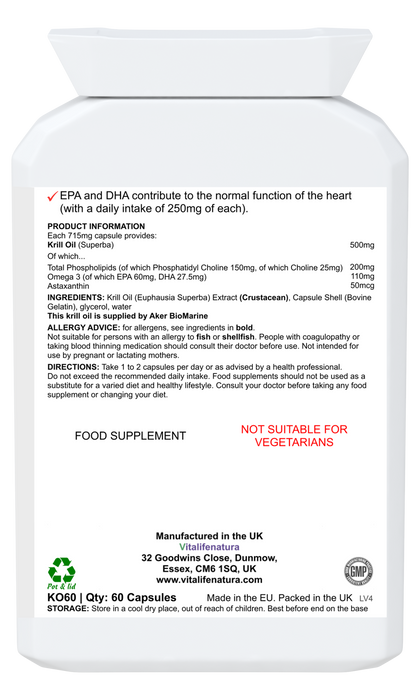 Antarctic Krill Oil 60 capsules
Antarctic Krill Oil (Euphausia superba) is a natural source of high concentration omega 3 oil, the powerful antioxidant astaxanthin, as well as high levels of phospholipids - a fundamental component of human cell membranes. It contains two types of Omega 3 fatty acid: eicosapentaenoic acid (EPA) and docosahexaenoic acid (DHA). Krill oil is used for the same reasons as cod liver oil, flax oil and other omega 3 fatty acids, but is often favoured because it does not cause fishy burps or an after-taste - a common side effect of fish oil.
The fact that it contains astaxanthin is also unique. The ultimate antioxidant - researchers have found that it may be more powerful than vitamin E, beta-carotene and lutein. It can also enhance the action of other antioxidants, such as vitamin E and C. Our krill oil is a high-strength formula (500mg), provided in an easy-to-swallow marine gel capsule form. It is sourced exclusively from sustainable fisheries in the Antarctic, through our partners Aker BioMarine™ who work with World Wildlife Foundation Norway to ensure sustainable krill harvesting.
Per 715mg capsule:Krill oil (Superba) - 500mg Of which... Total Phospholipids (of which Phosphatidyl Choline 150mg, of which Choline 25mg) - 200mg Omega 3 (of which EPA 60mg, DHA 27.5mg) - 110mg Astaxanthin - 50mcg.Krill Oil (Euphausia Superba) Extract (Crustacean), Capsule Shell (Bovine Gelatin), glycerol, water.
                                                                                                          ALLERGY ADVICE: for allergens, see ingredients in bold. Not suitable for persons with an allergy to fish or shellfish. People with coagulopathy or taking blood thinning medication should consult their doctor before use. Not intended for use by pregnant or lactating mothers. Not suitable for vegetarians and vegans.
1 - 2 capsules to be taken per day, or as advised by a health practitioner.
Warnings and allergy advice: Not suitable for persons with an allergy to fish or shellfish.                                                                                                               
People with coagulopathy or taking blood thinning medication should consult their doctor before use. Not intended for use by pregnant or lactating mothers