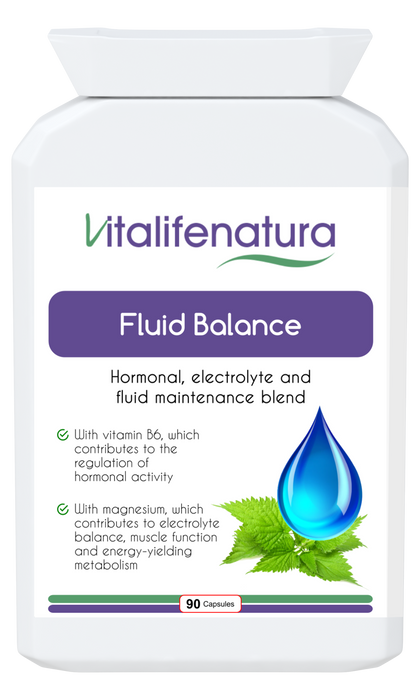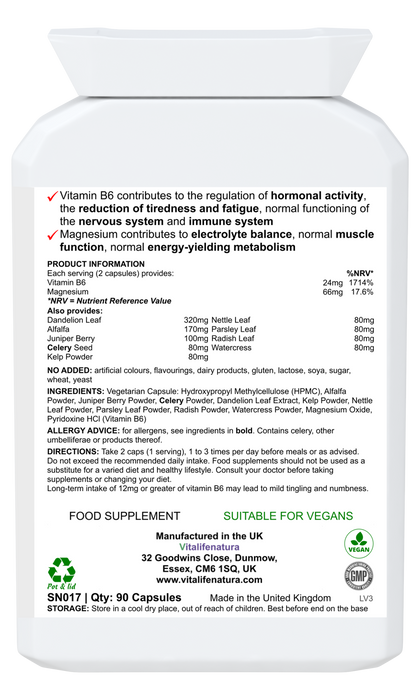 Fluid Balance 90 Capsules
Fluid Balance is a gentle, yet effective combination of concentrated herbals and nutrients, designed to support healthy fluid levels in the body. Many people, especially women, suffer with excess stored water (non-medical oedema).
Many also find that during each monthly cycle, they experience uncomfortable bloating of the abdomen and puffiness of the fingers, eyes, knees and ankles, as a result. This supplement encourages the body's natural elimination of stored water and waste via the kidneys.
Take 2 capsules (1 serving), 1 to 3 times per day before meals or as advised.
Warnings and allergy advice: Contains celery, other umbelliferae or products thereof. Long-term intake of 12mg or greater of vitamin B6 may lead to mild tingling and numbness.
Vegetarian Capsule: Hydroxypropyl Methylcellulose (HPMC), Alfalfa Powder, Juniper Berry Powder, Celery Powder, Dandelion Leaf Extract, Kelp Powder, Nettle Leaf Powder, Parsley Leaf Powder, Radish Powder, Watercress Powder, Magnesium Oxide, Pyridoxine HCl.
ALLERGY ADVICE: for allergens, see ingredients in bold. Contains celery, other umbelliferae or products thereof.
Contains no added: artificial colours, flavourings, preservatives, dairy products, gluten, lactose, soya, sugar, wheat or yeast.
Suitable for vegetarians and vegans.