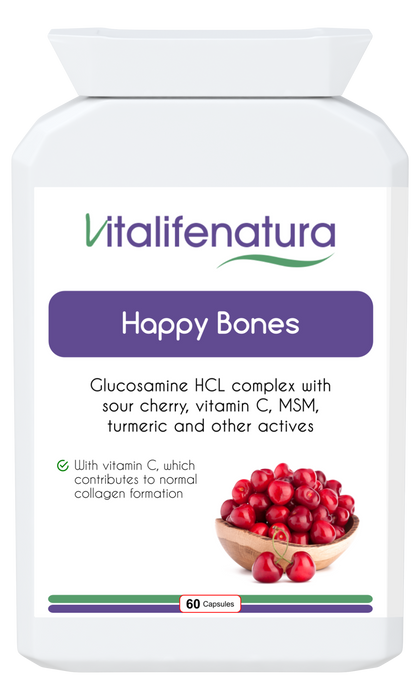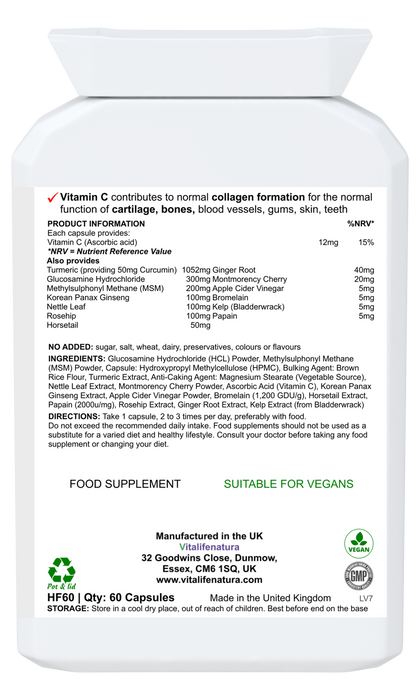 Happy Bones has been formulated to provide a tailored combination of glucosamine HCL, methylsulphonyl methane (MSM), vitamin C and other herbal and food-based ingredients, including: turmeric extract (with curcumin), nettle leaf, Montmorency cherry, Korean panax ginseng, apple cider vinegar powder, bromelain, horsetail herb, kelp, papain, rosehip and ginger root - all in one formula.
Only the highest grade glucosamine HCL is used in the formula - the HCL form of glucosamine is the most bioavailable (easily absorbed and utilised). This combination food supplement offers specific support for collagen formation, as well as the normal function of cartilage and bones. Collagen is a structural protein found in several connective tissues in the body including bones, cartilage, gums, skin, tendons and blood vessels.
1 capsule to be taken 2 to 3 times per day, preferably with food.
Glucosamine Hydrochloride (HCL) Powder, Methylsulphonyl Methane (MSM) Powder, Capsule: Hydroxypropyl Methylcellulose (HPMC), Bulking Agent: Brown Rice Flour, Turmeric Extract, Anti-Caking Agent: Magnesium Stearate (Vegetable Source), Nettle Leaf Extract, Montmorency Cherry Powder, Ascorbic Acid (Vitamin C), Korean Panax Ginseng Extract, Apple Cider Vinegar Powder, Bromelain (1,200 GDU/g), Horsetail Extract, Papain (2000u/mg), Rosehip Extract, Ginger Root Extract, Kelp Extract (from Bladderwrack). ALLERGY ADVICE: for allergens, see ingredients in bold.
Contains no added: sugar, salt, wheat, dairy, preservatives, colours or flavours.
Suitable for vegetarians and vegans.