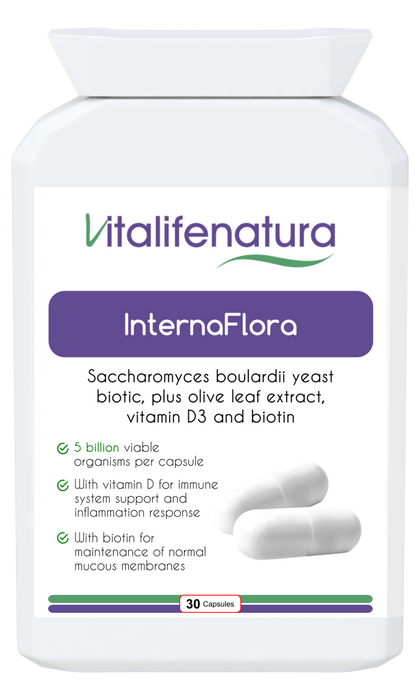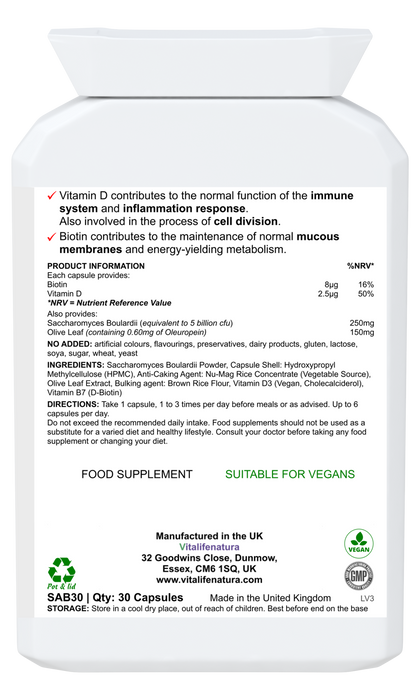 A high-strength Saccharomyces boulardii probiotic yeast with 5 billion cfu organisms per capsule, plus added olive leaf extract, vitamin D3 and biotin. Saccharomyces boulardii is a hardy, acid-resistant, temperature-tolerant micro-organism that is not affected by antibacterial agents or antibiotics. This yeast works as a 'probiotic' by colonising the intestinal tract and supporting the growth of friendly bacteria for a healthy balance of gut flora.
The active herbal olive leaf extract works in harmony with the yeast probiotic to provide additional colon health and yeast balance support (including protecting against viruses and fighting Candida albicans and other gastrointestinal conditions).
It also promotes immune system health and is a potent antioxidant at a cellular level, while the added nutrients (vitamin D3 and biotin) offer additional support for the immune system, inflammation response, mucous membranes and more (see below). Ideal for use following antibiotics, travelling abroad and after colonic hydrotherapy treatments.
1 capsule to be taken 1 to 3 times per day, before meals or as advised.
Up to 6 capsules can be taken per day. InternaFlora is stable at room temperature, but may be refrigerated to preserve freshness.
NOTE: Included in each pot is a small food grade approved sachet to ensure the product remains unaffected by moisture after it is opened for use. As stated on the sachet, this is not to be eaten.
Each capsules provides: %NRV*
Biotin - 8µg 16%
Vitamin D - 2.5µg 50%
*NRV = Nutrient Reference Value
Also provides: Saccharomyces Boulardii (equivalent to 5 billion cfu) - 250mg ​
Olive Leaf (containing 0.60mg of Oleuropein) - 150mg
Saccharomyces Boulardii Powder, Capsule Shell: Hydroxypropyl Methylcellulose (HPMC), Anti-Caking Agent: Nu-Mag Rice Concentrate (Vegetable Source), Olive Leaf Extract, Bulking agent: Brown Rice Flour, Vitamin D3 (Vegan, Cholecalciderol), Vitamin B7 (D-Biotin).
Source of Saccharomyces boulardii: Lychee or mangosteen.
Contains no added: artificial colours, flavourings, preservatives, dairy products, gluten, lactose, soya, sugar, wheat or yeast.
Suitable for vegetarians and vegans.