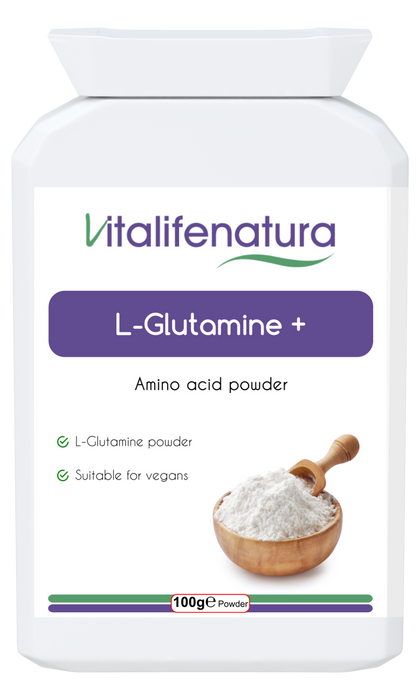 L-Glutamine + 100g Powder
Glutamine is one of the 20 amino acids, or "building blocks" of protein. It is a vital molecule that our body stores in the bloodstream and converts into glucose (blood sugar) when it is needed.
L-Glutamine, the natural form of glutamine, is needed for a wide range of repair and maintenance functions, such as wound healing, muscle and bone growth, digestive health and gut wall integrity.
This is a pure amino acid powder, used by people with various forms of digestive and intestinal problems (such as leaky gut syndrome and food intolerance reactions), a strained immune system and by athletes following gruelling training routines (it breaks down uric acid from proteins). It can also be used by people for recuperation purposes, for example following surgery, or any time the body is placed under unusual strain.
Paradoxically, this supplement is ideal for both the very fit and the very sick.
5g (1tsp) to 15g (3tsp) to be taken per day, or as required or advised by a practitioner.
L-Glutamine powder
NOTE: Total number of servings will vary between 7 and 20 (based on 5g - 15g powder per serving).
Source: Fermented from glucose.
Contains no added: artificial colours, flavourings, preservatives, dairy products, gluten, lactose, soya, sugar, wheat or yeast.
Suitable for vegetarians and vegans.