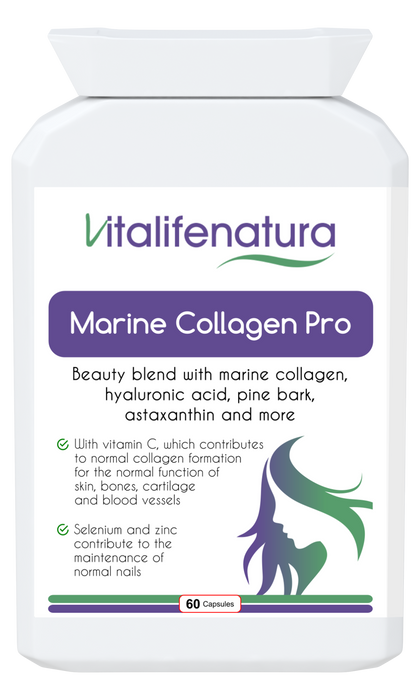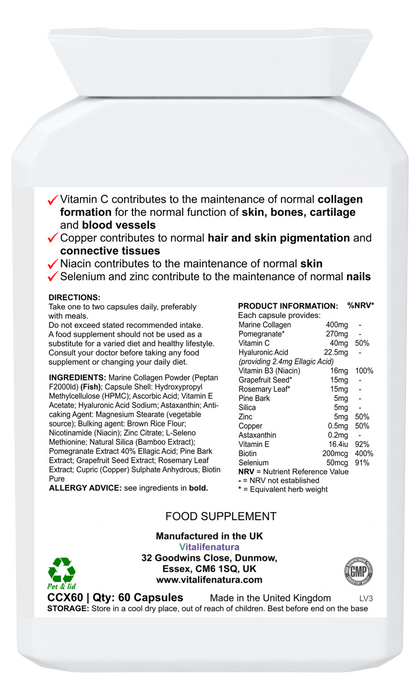 Marine Collagen Pro 60 Capsules
Collagen is an important complex protein in the body that provides structural integrity to key areas such as the skin, hair, nails, bones, joints, tendons, ligaments, cartilage, teeth, gums and blood vessels.
But Marine Collagen Pro is more than just collagen. It contains a tailored combination of marine collagen, as well as a clever vitamin, mineral, herbal and nutrient complex that is designed to work from within to help protect the body on a cellular level against ageing and oxidative stress.
These synergistic ingredients also help to keep skin elastic, radiant and supple. Their actions are backed by science, with a number of EFSA approved health claims, offering targeted nutritional supplementation to support both health and beauty.
Marine collagen: 
Collagen is the primary ingredient in this supplement and it is obtained from marine sources - widely regarded as the highest quality, and most bioavailable source of collagen. This is then complemented by the inclusion of hand-picked vitamin, mineral, herbal and other nutrient allies.
Take one to two capsules daily, preferably with meals.
Allergy advice:
Not suitable for persons with an allergy to fish.
Marine Collagen Powder (Peptan F2000ld) (
Fish
); Capsule Shell: Hydroxypropyl Methylcellulose (HPMC); Ascorbic Acid; Vitamin E Acetate; Hyaluronic Acid Sodium; Astaxanthin; Anti-caking Agent: Magnesium Stearate (vegetable source); Bulking agent: Brown Rice Flour; Nicotinamide (Niacin); Zinc Citrate; L-Seleno Methionine; Natural Silica (Bamboo Extract); Pomegranate Extract 40% Ellagic Acid; Pine Bark Extract; Grapefruit Seed Extract; Rosemary Leaf Extract; Cupric (Copper) Sulphate Anhydrous; Biotin Pure.
ALLERGY ADVICE:
 for allergens, see ingredients in 
bold
. Not suitable for persons with an allergy to fish.
Contains no added:
 artificial colours, flavourings, preservatives, gluten, dairy, lactose, sugar, wheat or yeast.