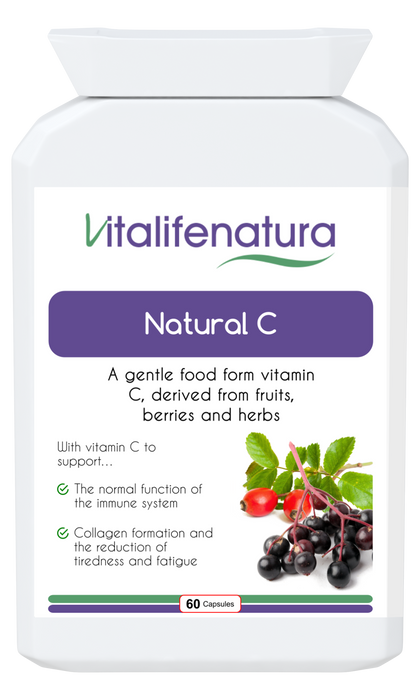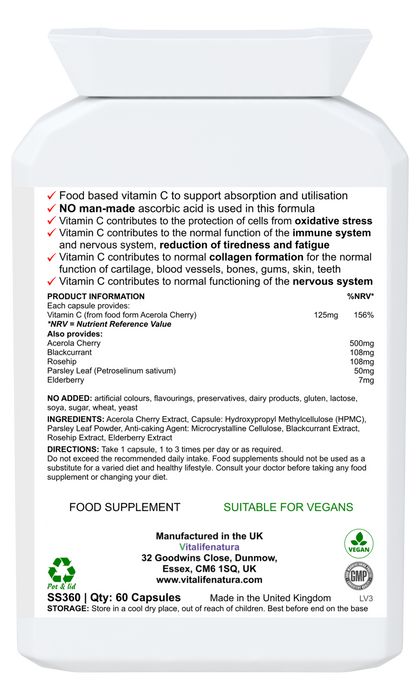 Natural C 125mg 60 Capsules
A gentle, non-acidic and food form vitamin C supplement derived from fruits and herbs, namely: Acerola cherries, rosehips, blackcurrants, parsley leaf and elderberries.
These food form ingredients are more readily absorbed and utilised by the body than synthetic vitamin C (ascorbic acid).

The fruit and herbal ingredients used in this food form vitamin C formulation also contain a range of other vitamins, minerals, bioflavonoids, pectins, essential oils, lycopene, carotenoids, plant sterols, catechins, polyphenolics and phytonutrients.

For example, as well as vitamin C: Acerola cherries also contain vitamin A, thiamine, riboflavin and niacin; rosehips contain calcium, iron, selenium, manganese, magnesium, phosphorous, potassium, sulfur, silicon and zinc; blackcurrants contain anthocyanins, flavonoids and polyphenolics;
parsley leaf contains volatile oil components (including myristicin, limonene, eugenol and alpha-thujene) and flavonoids (including apiin, apigenin, crisoeriol and luteolin); and elderberries contain flavonoids such as isorhamnetin, kaempferol and quercetin. And many more...

Natural C is gentle and non-acidic - no artificial vitamin C (ascorbic acid).
This is noteworthy because some people can't tolerate acidic and citrus-based supplements, which may aggravate certain medical conditions.

What's more, many synthetic vitamin C supplements (which tend to contain ascorbic acid), are packed with unwanted fillers, binders, additives and colours.
In many cases, these excipients can actually reduce absorption of the active ingredients and are potential allergens.

Our fruit, berry and herb-filled food form vitamin C supplement contains none of these added "nasties" and is therefore a great addition to your daily balanced diet.


Take 1 serving (1 capsule) with water or your favorite beverage 1-3 times daily.

Contains no added: artificial colours, flavourings, preservatives, dairy products, gluten, lactose, soya, sugar, wheat or yeast.
Suitable for vegetarians and vegans.

Acerola Cherry Extract (25% Vitamin C) - 500mg
Parsley Leaf Powder (Petroselinum sativum) - 50mg
Blackcurrant Ext 4:1 (>2% anthrocyanadins) (equivalent to 108mg powder) - 27mg
Rosehip Extract 4:1(equivalent to 108mg powder) - 27mg
Elderberry Extract (30% polyphenols) - 7mg