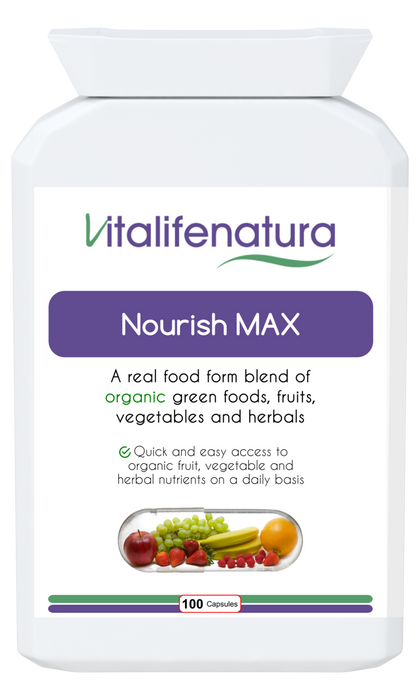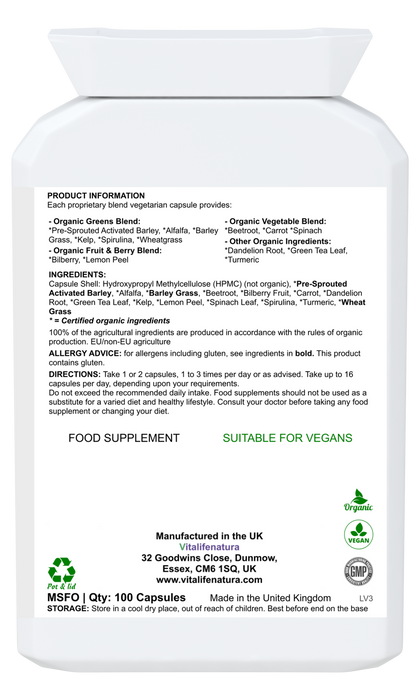 Nourish MAX is a comprehensive Soil Association certified organic whole food supplement, with some of the most nutrient-dense ingredients that nature has to offer:
Pre-sprouted activated barley, alfalfa, barley grass, beetroot, bilberry fruit, carrot, dandelion root, green tea leaf, kelp, lemon peel, spinach leaf, spirulina, turmerica and wheatgrass.
Originally based on a formula by master herbalist, Dr. John R. Christopher, with the addition of some other potent superfoods, superfruits and herbs, it is an all-round multi-nutrient blend in easy-to-take capsules - no poorly-absorbed synthetic vitamins and minerals.
The broad-spectrum nutrients (which include phyto-chemicals, enzymes, dietary fibre, beneficial oils, antioxidants, vitamins and minerals) are easily absorbed and used by the body, as they are in their natural food form and balanced state.
1 or 2 capsules to be taken 1 to 3 times per day, or as advised.
Up to 16 capsules can be taken per day, depending upon requirements. To be taken continuously for 2 to 3 months in order to derive maximum benefits.
Allergy advice: This product contains pre-sprouted barley grass, barley grass and wheatgrass, which contain gluten
Capsule Shell: Hydroxypropyl Methylcellulose (HPMC) (not organic, Vegetarian), *Pre-Sprouted Activated Barley, *Alfalfa, *Barley Grass, *Beetroot, *Bilberry Fruit, *Carrot, *Dandelion Root, *Green Tea Leaf, *Kelp, *Lemon Peel, *Spinach Leaf, *Spirulina, *Turmeric, *Wheatgrass *
Certified organic ingredients: 100% of the agricultural ingredients are produced in accordance with the rules of organic production. EU/non-EU agriculture. The herbs used in this food product are grown to the highest organic standards.
ALLERGY ADVICE: for allergens including gluten, see ingredients in bold.
This product contains gluten.
Suitable for vegetarians and vegans.