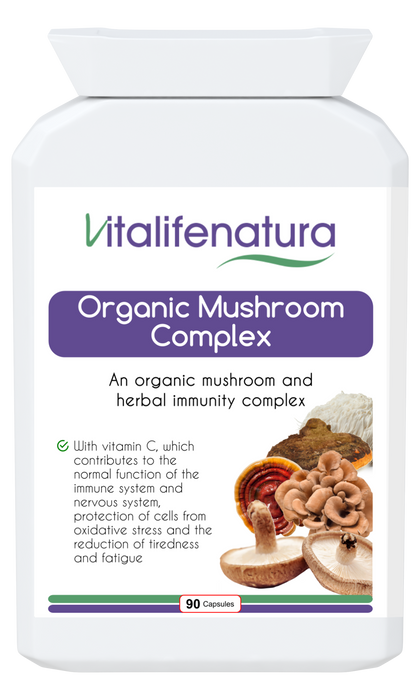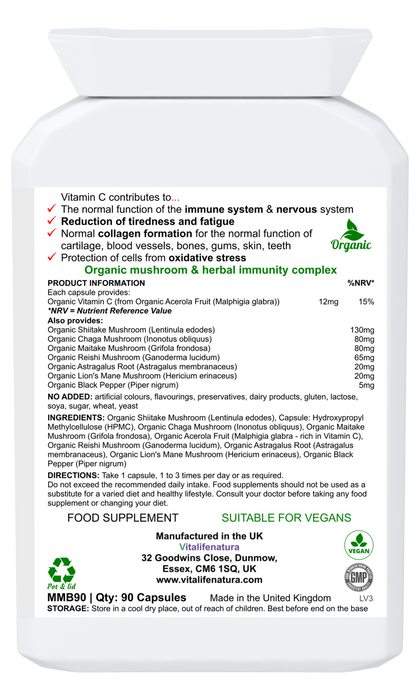 Organic Mushroom Complex 90 capsules
Organic Mushroom Complex 
is an organic mushroom immunity blend with Maitake, Reishi, Shiitake, Lion's Mane, Chaga PLUS Astragalus root, Acerola fruit and black pepper - all in one convenient capsule, providing important nutrients (such as vitamin C and vegan vitamin D) and active ingredients that are not found in other plants.
As well as its primary immune-boosting properties, this special complex supports everything from cognitive function, mental well-being and energy levels, to healthy digestion, lower levels of inflammation, protection from oxidative stress and general wellness.
The ingredients used in this food supplement have been certified organic by the Soil Association, meaning no toxic pesticides or fertilisers have been used resulting in a "clean" product. Being organic also helps the mushrooms to maintain their bio-availability and keeps them nutrient-dense, as some nutrients can be lost when non-organic ingredients are used.
1 capsule to be taken 1 to 3 times per day, or as required.
Organic Shiitake Mushroom (Lentinula edodes), Capsule: Hydroxypropyl Methylcellulose (HPMC) (Vegetarian), Organic Chaga Mushroom (Inonotus obliquus), Organic Maitake Mushroom (Grifola frondosa), Organic Acerola Fruit (Malphigia glabra) rich in Vitamin C, Organic Reishi Mushroom (Ganoderma lucidum), Organic Astragalus Root (Astragalus membranaceus), Organic Lion's Mane Mushroom (Hericium erinaceus), Organic Black Pepper (Piper nigrum).
Contains no added: artificial colours, flavourings, preservatives, dairy products, gluten, lactose, soya, sugar, wheat or yeast.
Suitable for vegetarians and vegans.