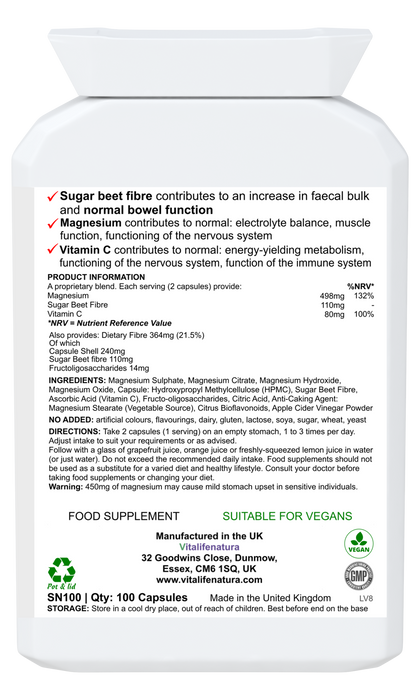 Oxyclean Plus 100 Capsules
Oxyclean Plus is a powerful, yet gentle, non-habit forming colonics formula, with nutrients specifically selected to contribute to an increase in faecal bulk and normal bowel function.
Sugar beet fibre, in particular, contributes to an increase in faecal bulk in two ways: the insoluble components of the fibre increase faecal bulk by absorbing water in the large intestine, while the soluble components are fermented by bacteria in the large intestine leading to an increase in bacterial mass. As such, this source of fibre may have a beneficial physiological effect for people who want to improve or maintain a normal bowel function.
It contains: magnesium sulphate, magnesium citrate, magnesium oxide, magnesium hydroxide, sugar beet fibre, ascorbic acid (Vitamin C), citric acid, citrus bioflavonoids, apple cider vinegar powder (a natural digestive) and fructo-oligosaccharides (FOS, a prebiotic) - ingredients designed to support the bowel hydrating actions of the magnesium, as well as digestive regularity.
Take 2 capsules (1 serving) on an empty stomach, 1 to 4 times per day. Follow with a glass of grapefruit juice, orange juice or freshly-squeezed lemon juice in water (or just water). Adjust intake to suit your requirements or as advised.
Warning: 450mg of magnesium may cause mild stomach upset in sensitive individuals.
Magnesium Sulphate, Magnesium Citrate, Magnesium Hydroxide, Magnesium Oxide, Capsule: Hydroxypropyl Methylcellulose (HPMC) (Vegetarian), Sugar Beet Fibre, Ascorbic Acid (Vitamin C), Fructo-oligosaccharides, Citric Acid, Anti-Caking Agent: Magnesium Stearate (Vegetable Source), Citrus Bioflavonoids, Apple Cider Vinegar Powder.
Contains no added: artificial colours, flavourings, dairy, gluten, lactose, soya, sugar, wheat or yeast.
Suitable for vegetarians and vegans.