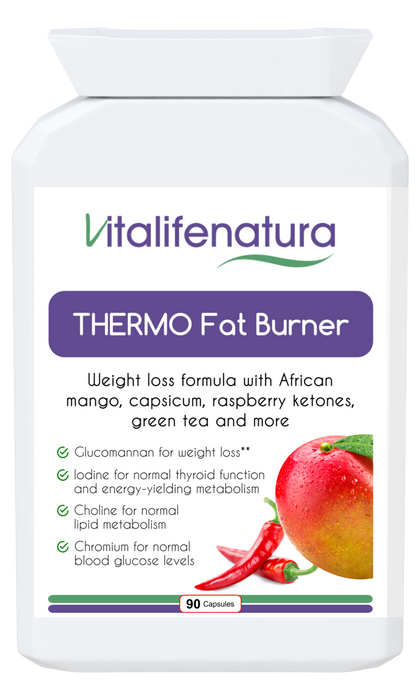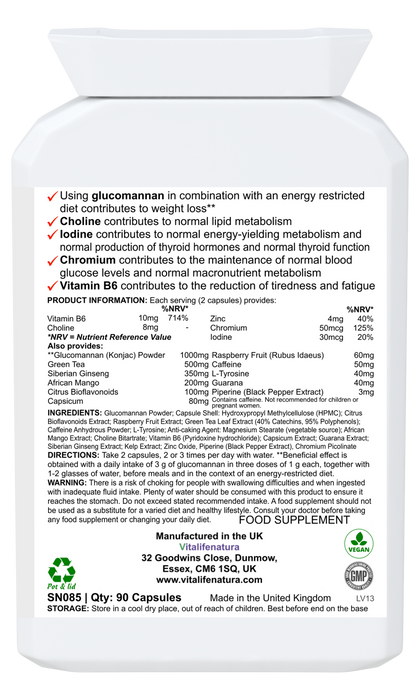 THERMO Fat Burner 90 Capsules
THERMO Fat Burner is a thermogenic fat metaboliser and herbal weight management supplement, which supports the body's natural fat burning processes, along with the feeling of fullness, energy levels, thyroid function, carbohydrate, lipid and fatty acid metabolism, stable blood sugar levels and other vital aspects of effective weight loss.
This food supplement has been formulated with a specialist combination of synergistic herbs and nutrients.
Each capsule combines 11 herbal ingredients (glucomannan, bitter orange peel, red raspberry extract (contains ketones), caffeine anhydrous, green tea, L-Tyrosine, African mango, capsicum, guarana, Siberian ginseng and piperine), with vitamin B6, choline, zinc, chromium picolinate and iodine.
Take 2 capsules, 3 times per day with water. 1 serving = 2 capsules.
Glucomannan (Konjac) Powder, Vegetarian Capsule Shell: Hydroxypropyl Methylcellulose (HPMC), Bitter Orange Powder, Red Raspberry Extract (20% ketones), Caffeine Anhydrous Pdr., Green Tea Leaf Ext.10:1 (40% Catechins), L-Tyrosine Pdr., Anti-caking Agent: Magnesium Stearate (vegetable source), African Mango Extract 10:1, Choline Bitartrate Pdr., Vitamin B6 Pyridoxine Hcl Pdr., Capsicum Ext.8:1, Guarana Extract 4:1, Siberian Ginseng Extract 35:1, Zinc Oxide Pdr., Piperine (95% extract), Kelp 4:1 Extract (1% Iodine), Chromium Picolinate Pdr.
Suitable for vegetarians and vegans.