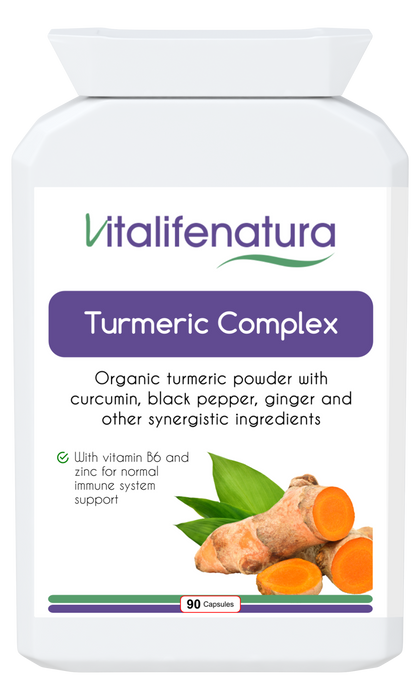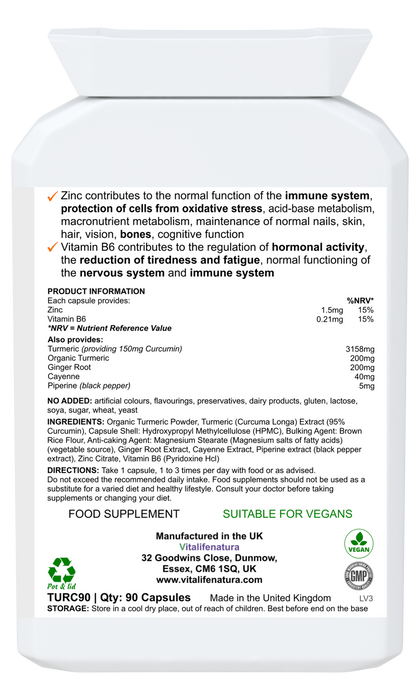 Turmeric Complex 90 Capsules
Turmeric root powder has been long used by Ayurvedic medicine as a basic "heal all" and anti-inflammatory. The benefits of turmeric and its active ingredients (including curcuminoids) have recently been recognised in the Western world after much TV, magazine and radio coverage. There are a couple of thousand published studies supporting the beneficial effects of turmeric.
Our Turmeric Complex is a unique combination of organic turmeric powder with synergistic extracts, herbs and nutrients, which supports immunity, lower levels of inflammation, joint and bone health as well as energy levels, cognitive function, hormonal balance, acid-base metabolism, macronutrient metabolism, nails, skin, hair and more.
Each capsule combines organic turmeric powder PLUS high-potency turmeric extract (95% curcumin - the active ingredient) with ginger root extract (5% gingerols), cayenne extract (100au capsaicin), piperine (black pepper) extract, zinc citrate and vitamin B6. The piperine has been included to potentiate the absorption and effect of the other herbal actives - a well-known herbalists' combination.
Ideal as an immune system booster, as well as for use during any exercise programme, by older adults and anyone looking to support hormone, bone and joint health plus all round well-being. Can also be used for liver, digestive and circulatory system health.
1 capsule to be taken 1 - 3 times per day, with food or as advised by a health practitioner.
Organic Turmeric Powder, Turmeric (Curcuma Longa) Extract 10:1 (95% Curcumin), Capsule Shell: Hydroxypropyl Methylcellulose (HPMC) (Vegetarian), Brown Rice Flour, Anti-caking Agent: Magnesium Stearate (Magnesium salts of fatty acids) (vegetable source), Ginger Root Extract 20:1, 5% Gingerols, Cayenne Extract 7:1 (100au Capsaicin), Piperine 95% extract (black pepper extract), Zinc Citrate, Vitamin B6 Pyridoxine Hcl.
Suitable for vegetarians and vegans.